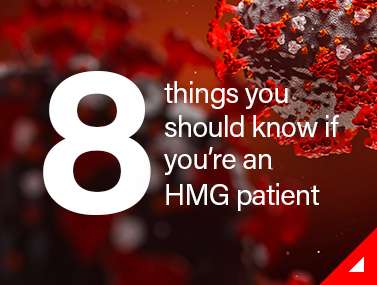 As we continue to monitor coronavirus (COVID-19), we want to provide accurate information and offer a few tips to help keep you, your loved ones and our community safe.
HMG recommends adherence to the guidance from CDC, the American Academy of Family Physicians (AAFP) and the American Academy of Pediatrics (AAP) to reduce the risk of COVID-19 exposure to the members of our community. As your health partner for life, it is our responsibility to provide guidance and care backed by scientific evidence and personalized to each patient's needs.
If you have questions regarding COVID-19 safety precautions, please speak directly to your physician.
Please know that we are working closely with the CDC and state resources to monitor and respond, providing you with accurate, up-to-date information and taking proactive measures to reduce the risk of exposure to our staff, providers and patients.
Everyone must do their part to help reduce the spread of COVID-19. One of the best ways to reduce your risk is to receive your COVID-19 Vaccination. For more information on the COVID-19 Vaccine, visit https://www.holstonmedicalgroup.com/covid-19-vaccine-faq.
HMG recommends the following tips to reduce your risk of exposure:
Tune in to HMG's Social Media Channels
We will be posting frequent tips and information on our social media channels. Please take a moment to follow us for expert advice and more information on the COVID-19 response: