One of the biggest risks for children this summer involves one of summer's biggest pleasures: swimming.
We've seen an uptick in backyard pool sales due to the coronavirus, since kids are likely to be spending a lot of time at home to limit the spread of COVID-19. But as much fun as it is to create a place for kids and teens to swim at home, experts believe the risk of drowning among kids and teens could rise this summer with the increase in backyard pools and getaways to beaches and summer homes.
As a result, Ben Hoffman, MD, FAAP, chair of the American Academy of Pediatricians' Council on Injury, Violence & Poison Prevention, says the need for extra layers of protection to strengthen water safety for children of all ages is crucial. How can parents most effectively keep children and teens safe around water, especially during the pandemic? Here are three tips.
Designate a water guardian
Some close friends of mine lost their sweet 3-year-old boy after he fell into a pool at the house they were renting for summer vacation. He had been out of sight for mere moments, yet he managed to slip through a patio door, walk down the steps to the pool and fall into the deep end. Although the child was among several adults who are physicians, they could not save him. It's a reminder that drowning takes just seconds—and a warning of the need for constant vigilance to protect children and teens around pools and outdoor bodies of water.
Designating responsibility for watching the kids, especially in an unfamiliar environment, is essential to keeping children safe. One way that parents and guardians can better protect kids when they are near a pool, lake, river or ocean is to assign a "water guardian" to keep an eye on children to ensure accidents like this do not happen. An organization called Levi's Legacy enables families to order a free "water guardian tag." The tag—about the size of a credit card—is a tangible reminder of who is supervising the children. It provides assurance that an adult will respond quickly at the first signs of trouble.
Have rules in place
Set strict rules around the use of backyard pools—and put the right protections in place. You can establish layers of protection around use of your backyard pool by ensuring that children and teens know that an adult must be present during pool time. Physical layers of protection also heighten safety for backyard pools. These include:
Deadbolts and alarms on any doors that lead out to the pool, placed high enough to be out of reach of children.
Gates to the pool that self-close and self-lock so that children cannot slip through.
Installation of a four-sided fence around the pool that is not climbable.
Pool alarms that sound an alert when someone opens the door to the pool or a nearby window; leaves the gate to the pool open for more than a few seconds; or enters the pool surface.
Does your pool area have these for safety?
Make sure kids are confident in the water
All children (and parents!) need to learn to swim. It's important to note, though, that not all swim lessons are created equally. Look for classes with lots of one-on-one instruction and avoid classes with greater than a 4:1 student-to-instructor ratio. Make sure classes emphasize progress and learning in a matter of weeks, not months, to bring kids up to speed quickly, and choose a program that focuses on water competency and emphasizes respect for the water over fun.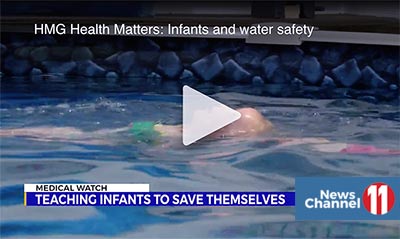 WJHL VIDEO: Rolling into a float position (in action!)The best programs teach children how to "self-rescue" by rolling to a float position and using their swim skills to reach the nearest exit when they feel they are in trouble. It is also important to consider avoiding the wear of puddle jumpers. These floatation devices can contribute to a false sense of security, and they are designed to keep kids vertical – rather than the natural horizontal floating position – which teach bad habits.
Parents should consider these safety tips around pool, but also in open water like lakes, ponds and oceans. As children get older, they are more at risk of drowning in open water, so teaching the use of life jackets as well as rip tides is also an important safety factor to water safety.
A Safe Environment for Water-Based Play
Layers of protection keep kids of all ages safe in any water-based environment, from backyard pools to water parks to a day at the beach or lake. By emphasizing the need for constant communication and supervision of kids and teens around waters, families can provide the summer experience children, teens and adults crave while setting a foundation for healthy fun.
To learn more about Levi's Legacy, visit LevisLegacy.com.