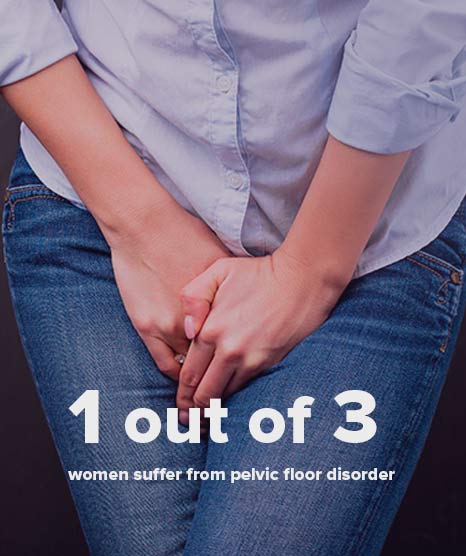 One out of three women suffer from urinary incontinence, pelvic organ prolapse, and issues with bladder control. Many of these women wait to seek treatment, believing their conditions are simply part of the aging process. Often, they endure pain and discomfort in silence, hesitating to see a physician.
There is help—locally, from specialists who provide one-on-one, personalized care.
There's no need for a referral. Simply call 423-990-2450 to schedule an appointment.
We Believe in Personalized Treatment
Our dedicated team will work with you to design a personalized treatment plan that takes into account your health needs and preferences for treatment and recovery.
We diagnose and treat a wide variety of urogynecological issues in women of all ages. We recognize that each woman's health needs are unique, and the decision to seek treatment can be highly emotional.
Our Providers
Known by his patients for his provision of attentive, compassionate care, Scott Fowler, MD, is an incredibly multi-faceted obstetrician & gynecologist. In fact, he's not only a doctor, but also a lawyer and a pilot, receiving his pilot license at age 16.

Board certified by the American Board of Obstetrics & Gynecology, Dr. Fowler received an undergraduate degree in philosophy and politics from Earlham College, Richmond, Ind., where he met his wife, Melisa Kavan, of Istanbul, Turkey.

He went on to graduate from honors from the University of Georgia, Athens, with a juris doctor degree in law. He received a doctorate of medicine from the Medical College of Georgia, Augusta, where he again, graduated with honors.

It was after an extensive search of one of the best places in America to raise a family, that he, his wife, Melisa, and their three children, Lisa, Elizabeth and Emily, made their home in Kingsport. Dr. Fowler then founded Blue Ridge Obstetrics & Gynecology in 2000, which later became Seasons for Women.

Dr. Fowler's areas of special medical interest include urinary incontinence, uterine prolapse, minimally-invasive surgeries and reproductive surgery.

Jeffrey McQueary, MD, FACOG is board certified in both general obstetrics and gynecology, female pelvic medicine and reconstructive surgery.

Dr. McQueary has been with HMG since 2003. He received his undergraduate degree from Pacific Union College, Angwin, CA, and his doctorate from Loma Linda University School of Medicine, CA. He completed his residency at the Medical  College of Virginia, Richmond, VA.

Dr. McQueary began practicing medicine in 1996 and has performed more than 6,000 urogynecological procedures. He specializes in urgency and stress incontinence, prolapse repair, and advanced, minimally invasive robotic surgery.

Cynthia McGlothlin, WHNP is board certified through the National Certification Corporation for the obstetrics, gynecology, and neonatal nursing specialties.

Cynthia McGlothlin has been with HMG since 2004. She received her bachelor's degree in nursing from Radford University and her master of science in nursing from Virginia Commonwealth University. Cynthia has been assisting Dr. McQueary in surgery for over five years. She is very experienced in the diagnosis and treatment of complex urogynecologic conditions.
Our services encompass all types of pelvic floor disorders, including:
Urinary incontinence (accidental loss of urine)
Fecal incontinence (accidental loss of stool)
Pelvic organ prolapse (including prolapse of the uterus, bladder, small bowel or vagina)
Pelvic pain and pressure
Pelvic floor problems related to childbirth
Frequent urinary tract infections
Sexual dysfunction
Painful intercourse
Issues with bladder and rectal control
Complications related to vaginal prolapse surgery, including vaginal graft/mesh erosion, pain with intercourse, and abnormal vaginal bleeding or discharge
Advanced Options for Care
At the HMG Urogynecology, our team is board-certified and highly experienced, offering the latest treatments for a full range of pelvic conditions and disorders. Our advanced options for surgical and nonsurgical treatments include:
Da Vinci™ robotic treatment of pelvic organ prolapse, a minimally invasive approach that enables women to recover more quickly
Laparoscopic and Vaginal minimally invasive treatment of prolapse
Pessary management of prolapse and incontinence
Axonics treatment for severe bladder and bowel control issues
Tibial nerve stimulation therapy
Urethral bulking with Coaptite or Durasphere
Stress incontinence slings – Advantage Fit and Altis
Complex urodynamic testing
Making an Appointment
There's no need for a referral. Simply call 423-990-2450 to schedule an appointment.
During your visit, we will discuss your medical history, the physical issues that brought you to our team, and any test results or reports from previous providers that are available. We may schedule diagnostic imaging tests, such as an X-ray or ultrasound, at our onsite imaging center, where results will be available to our team and shared with you soon after testing is complete. We will then meet with you to discuss your treatment options and work with you in designing a treatment plan that is right for your needs.
Before Your Visit
To ensure you are seen by our team as quickly as possible upon arriving, we provide the opportunity to complete all paperwork in advance from the convenience of home. Our OnePartner health information exchange ensures we are able to access your records from other providers—free of charge. Ask your providers if they participate in the OnePartner exchange.
Patient Education
Access patient education materials for a variety of conditions, treatments, tests, and procedures:
Conditions
Treatments and Tests
Procedures
Percutaneous tibial nerve stimulation