Helping people age as healthfully as possible is my life's work. As someone who treats seniors in my practice at Holston Medical Group, I enjoy partnering with my patients to find ways to keep them happy, healthy, and living in their own homes as long and safely as possible.
One big concern as people age, though, is the increased risk of falling.
WJHL Interview: Dr. Ronna D. New
It might surprise you to know that falls are the leading injury-related cause of death among seniors. Every 20 minutes, a senior in the U.S. dies from a fall, and that number is expected to rise. Non-fatal falls cost the healthcare system about $50 million each year in medical bills. Sadly, I've noticed in my practice that for many seniors, taking a tumble can set off a cycle of fear and inaction that may lead to other health problems.
The CDC says about 1 in 4 adults (28%) over the age of 65 in the U.S. has a fall each year. In Tennessee, it's closer to 30%. In Virginia, it's around the national average at 28%.
My goal is to keep you healthy and strong so you can keep doing what you love, and we can bring these numbers down! Part of my job as your health partner for life is to make plans to avoid falls and injury. These plans are as vital for families and caregivers as they are for seniors themselves. Prevention is a team effort, and we all want to protect our loved ones from the risks of falls.
Why Seniors Fall
As we age, we are more likely to fall because our bodies naturally begin to weaken as our muscles lose strength. Some common chores like carrying groceries or opening a jar, things we do not really think about, can become more difficult as we lose strength. This is what we call frailty, and it is a leading factor of falls. The less we use our muscles, the more at risk we are for frailty.
Seniors are also at a greater risk for falls because of:
Weakness in the lower body
Lack of enough Vitamin D
Hearing loss
Vision problems
Trouble with walking and balance
Dizziness
Medication side effects
Foot pain or poor footwear
Tripping hazards at home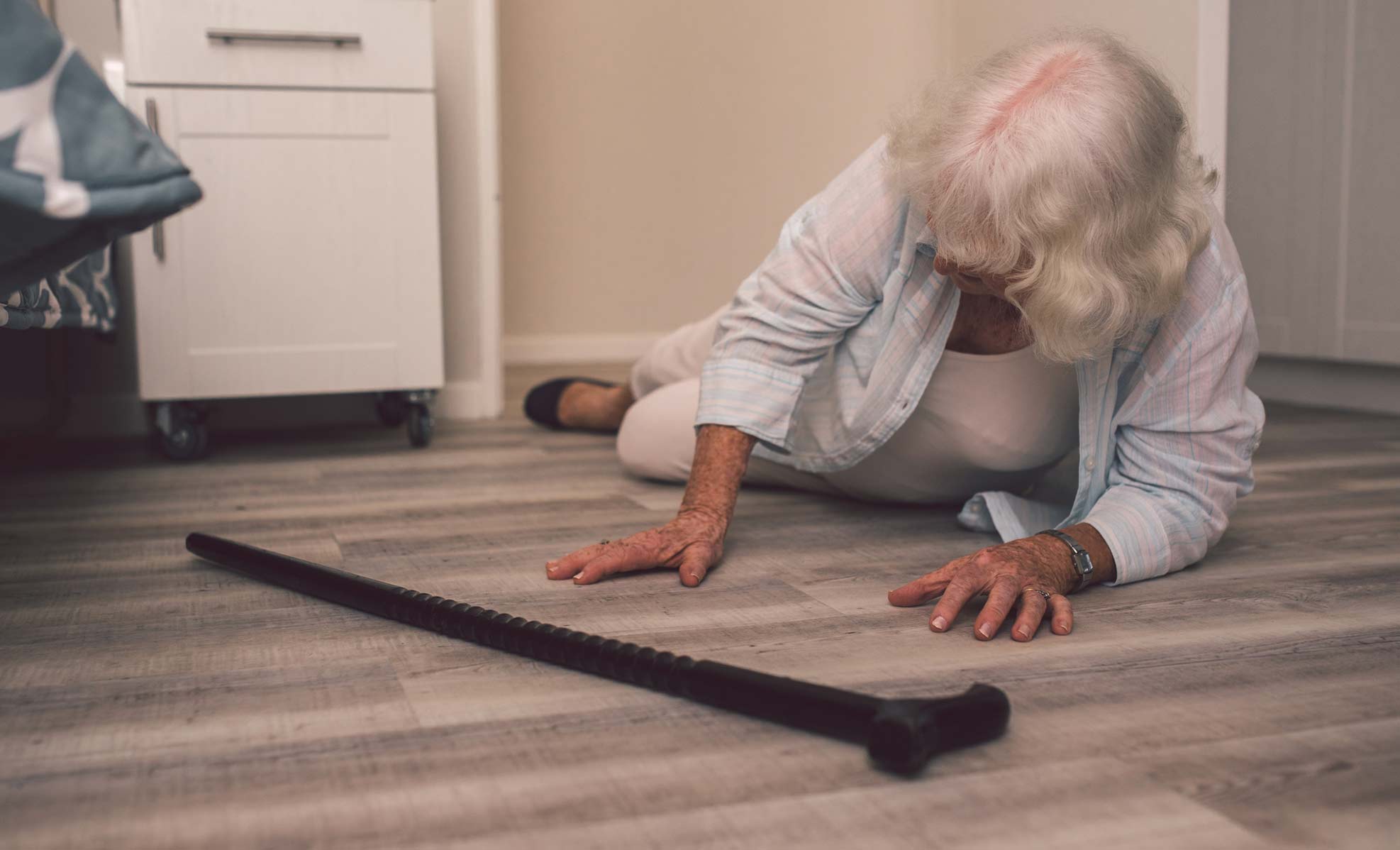 Taking a tumble can result in broken bones and head injuries, causing more weakness, frailty, and increasing the risk of further injury.
How to Prevent Falls
Too often, when you suffer from a tumble as a senior, you may start to fear falling again. That worry can often cause inactivity. But the less you move, the more you increase the risk of other health problems. That's why you need to keep up our strength as you age and take steps to prevent falls. Staying active is important for your physical and emotional well-being. And it lowers the risks of falling.
So, here are 7 things you can do to prevent falls:
1. Stay active! Keep your muscles in the best shape they can be in. You don't have to run for miles. Just find an activity that works for you. Even a regular walk is good. You can also try yoga, water aerobics, or tai chi, for example. Find something that brings you joy.
2. Check your local community or senior center. Classes and group outings may allow you to stay active with friends. As an added benefit, maintaining social activity keeps your mind sharp!


At the local senior center, you can stay active with friends, and have fun while doing so!

3. Do some physical therapy. At HMG, we have a wonderful physical therapy team. I partner with them a lot to help seniors keep up their strength to decrease the risk of falls. They can provide you with a physical activity program tailored to your needs and your goals.
4. Get a yearly physical. Your HMG provider will look for any health changes that can lead to a fall, like changes in your feet or thyroid. You may also want to talk through a CDC checklist with your provider to learn how to increase your chances of living safely on your own.
5. Talk to your provider about the medicines you take. Some drugs or drug combinations can make you dizzy or cause other issues that could make you fall. Your provider should make sure that the medicines and doses you take are right for you and have the least risk of causing problems like dizziness.
6. Get a yearly eye exam. Poor vision can also lead to a fall. An eye exam will make sure your vision is OK, or your glasses are helping you see correctly.
7. Make your home safer. I talk often to patients about how to keep themselves safe in their homes. One place to start is to look for tripping hazards on the floor, like throw rugs or clutter in places you walk. Remove them! You can also:

Install handrails on both sides of your stairs.
Add grab bars in your shower or tub, and next to your toilet. A shower chair or non-slip mat can also help in the bathroom.
Use brighter light bulbs or put more lights in your home.
Keep items you use a lot within easy reach, so you don't have to climb on a step stool or chair.
As it gets colder, I also recommend that people be aware of places in their homes that could be slick from ice, snow, or rain. To check your risk for falling, you can take a quiz from the National Council on Aging.
Aging Healthfully with Your HMG Partner
I believe that the longer seniors can live in their own homes, the happier they will be. For me, a major part of that is helping to decrease the risk of falling.
At HMG, we partner with you to look at the big picture and make sure we keep you as strong as possible. Healthy aging is important to everyone in my practice. I feel blessed to be part of my patients' care and to be their health partner for life.