When the Medicare Annual Enrollment Period (AEP) rolls around each year, we hear a lot of questions from patients who want to make sure they're selecting the right options for their care. We know the choices can seem confusing and overwhelming. But, it's important to look at them carefully every year because your needs change and so do Medicare plans.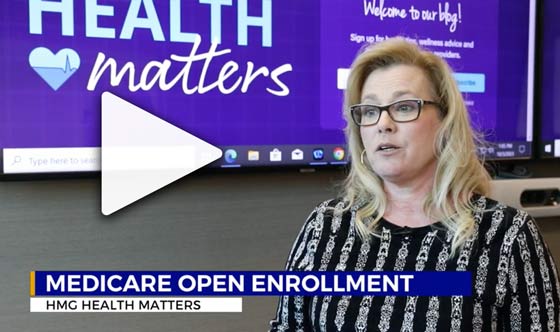 WJHL Interview: Samantha Sizemore
As the community's health partner for life, Holston Medical Group is here to ease the worry and help you through the annual enrollment period. Here are some considerations to keep in mind to address a few common questions.
What is Medicare enrollment?
Medicare is a health insurance program for patients aged 65 and over. It helps them pay for care when they see providers at the hospital, at a clinic, or in the office.
Patients who need new Medicare plans or who want to change their plan can do so at a certain time of the year, called the annual enrollment period. It's held each year from October 15—December 7. This is an important time to make sure that seniors and eligible patients have the health coverage they need for the coming year.
How do I know which Medicare plan to pick?
There are a lot of Medicare plan choices. You might need to make a few lists to figure out which one is right for you. Here are some important things to consider:
Your budget. How much can you afford to spend each month on premiums — your monthly insurance bill? How much can you afford to spend on out-of-pocket costs — the part of a healthcare bill not covered by insurance?
The coverage you need. Think about how many specialist providers you see, or if you mainly see your primary care provider. Think about the care you need for your eyes and teeth, too. That will help you decide on the right vision and dental insurance in addition to your medical plan.
The plans your provider accepts. Talk to your HMG primary care provider to see which Medicare plans they accept. You could end up paying a lot more money for your healthcare if your provider is "out-of-network" — which means they aren't covered by that plan.
Where can I find out more about my Medicare choices?
To pick the right plan, you need to know your choices. This is where you'll need to do a little homework. Go to Medicare.gov and look for options that check the boxes on your list. Each plan is a little different, so you'll want to think about:
If you take medications, you'll want to ensure you have pharmacy coverage.
If you have eye issues or wear glasses, make sure you have vision coverage.
If you need hearing aids, you'll want to compare plans that cover them.
If you have full dentures, you may not need a dental plan.
This is my first year on Medicare, where should I start?
One of your first calls should be to your HMG primary care provider to schedule your Welcome to Medicare visit.
Your "Welcome to Medicare" visit helps your provider walk you through any health questions you might have now that you're over 65. They'll also talk about newer health risks like falling and explain other benefits you can get with Medicare.
There are certain timing requirements, though. So contact your provider for information.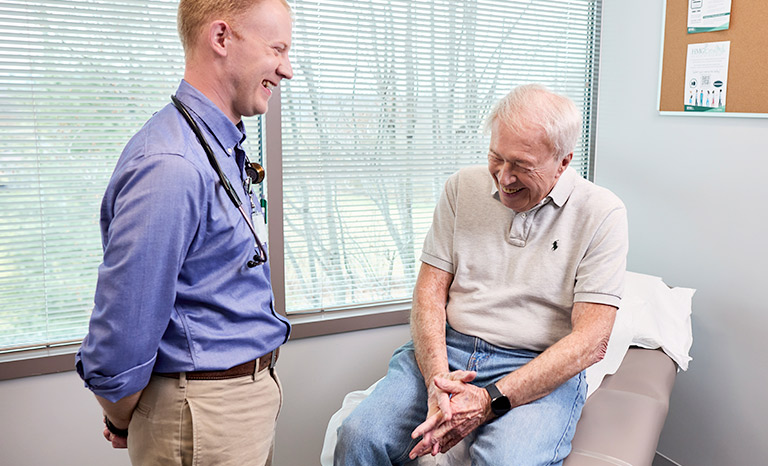 What are some benefits that all Medicare patients get?
No matter the plan you choose, all Medicare patients have access to "preventative benefits." These include coverage for things like vaccines, tests, screenings, and even yearly wellness visits, including:
Mammograms
Colonoscopies
Glaucoma screenings
Flu shots
Diabetes-related services
Counseling and mental health-related therapies
These services can help keep you healthy and catch problems early. Some plans have other special services, too, like free gym memberships or savings on over-the-counter medications or medical supplies. So, look for a plan that covers what you need without paying for what you won't use.
​What are some official Medicare terms that I should know?
You'll see a lot of different terms as you learn more about the Medicare plans. Some can be confusing, so here are a few that you should understand:
Co-payment: A set amount that you will need to pay for each provider visit and other services.
Coinsurance: After you meet your deductible, coinsurance is the cost you pay for a service. This amount will come as a bill from your doctor after Medicare has paid its portion.
Cost-sharing: This is the part of costs you will owe for your care. Cost-sharing is the same as out-of-pocket costs.
Deductible: The total amount you pay each year before your insurance kicks in. This amount can change each year, even if you pick the same plan you had before.
In-network: A provider, hospital or pharmacy that is covered by the plan you picked. In-network care will usually cost less than out-of-network care. Before you pick a Medicare plan, talk to your primary care provider and specialists to find out what plans they accept.
Open enrollment period: Between Oct. 15 and Dec. 7 each year, patients aged 65 and older pick the Medicare plan that will cover their health care costs for the next year.
Out-of-network: A provider, hospital or pharmacy that is not covered by the plan you picked.
Out-of-pocket costs: The amount you pay for your care because it is not covered by Medicare. This total can include co-payments and cost-sharing. (Maximum Out-of-Pocket, or MOOP, is the most that you will pay each year in "out-of-pocket" costs.)
Premium: The amount you pay each month to Medicare or another insurance company for your healthcare coverage.
Prior authorization: Insurance plans often require providers to get their approval before delivering certain services. If you get the service without prior authorization, the payer may not cover the service.
Specialist: Your primary care physician takes care of your whole body, while a specialist cares for one part. For example, you may have allergy testing done by an allergist or see a geriatrician as you age.
Supplemental insurance: Some patients choose to buy an extra plan to cover services that aren't paid for by Medicare. These extra plans, sometimes called Medigap, supplement Medicare coverage.
Where can I go for more help?
We recommend talking to a neutral third party or someone whose job it is to help you understand and weigh your options.
Our community partner, MedicareCompareUSA, is a licensed insurance agency that helps patients answer important questions and compare choices. HMG patients can call 855-235-7879 from 9am – 8pm Monday–Friday for any Medicare-related questions.
The federal government also keeps a hotline open at 1-800-MEDICARE or online at medicare.gov.
We know there is a lot of misleading information out there. So, make sure you talk to people who have your best interests at heart.