In 2020, amid the pandemic, Holston Medical Group team member Erica Horton felt a tug in her heart to support her community. After such an extreme first year of COVID-19, she looked for ways to help others. After hearing about HMG's Mission into Motion program, a company-wide initiative that supports local non-profits, schools, and churches across the area with volunteers, Horton reached out to ask if HMG would support a coat and mitten drive for those in need.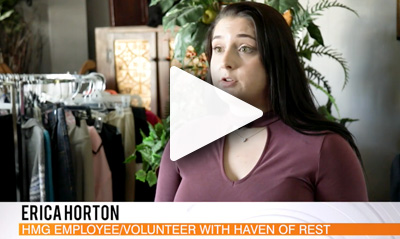 WJHL VIDEO: Erica Horton
After an emphatic "yes" from HMG, Horton then reached out to Haven of Rest Rescue Mission Inc., who operate eight distinct ministries with a mission to serve homeless populations in both Tennessee and Virginia. They worked out the details for the drive and with the support and encouragement of her Sapling Grove colleagues and others at HMG, Horton began collecting coats for community members.
When HMG put the word out for the need for coats and other outerwear, donations came surging in from both states. HMG's couriers were bringing coats over from other HMG offices as physicians, patients and community members from across the area got involved.
"With the major support from Holston Medical Group, and the team from HMG's Mission into Motion, it tenfold just helped tremendously," Erica says. "It made me even more passionate about it."
After collecting coats and other outdoor clothing through a drive at HMG, she dropped off the donation. Later that night, a mother and her children joined the community meal at Haven of Rest, and servers noticed that the family's clothing wasn't warm enough. They immediately dipped into the donations that Erica had dropped off to provide warm coats to the family.
"It blew my mind that something we had just done was used so quickly," Erica says. "It just shows what kind of need we have in our community."
The Drive is On
Erica's internal drive to support residents and families at Haven of Rest — and the coat drive — will enter a second year. Coats collected by her and others in 2021 will benefit families, residents and the homeless in Bristol and the Mountain Empire who count on services from Haven of Rest.
Founded in 1955 as a single gospel mission for homeless men who rode trains that stopped in Bristol, Haven of Rest has grown to eight ministries that feed, house, and provide occupational services to the homeless and working poor in the community.
In addition to the meal service that served the family who were the first recipients of Erica's coats, Haven of Rest hosts a chapel, a food pantry, residential programs for homeless men, and emergency housing for women and children.
The COVID-19 pandemic hit Haven of Rest hard, as food insecurity rose early in the pandemic. For its food pantry and nightly dinners, the mission had regularly relied on donations from grocery stores and school can drives, both of which couldn't donate because of low supplies or shuttered schools. In addition, local postal workers had previously collected canned food to support three charities in the area, including Haven of Rest, but those collections were halted.
Graciously, a local resident of means found a path to support both Haven of Rest and restaurants suffering through state shutdowns by purchasing 100 meals nightly to help the regular meal service for nearly eight weeks at the start of the pandemic.
"The grassroots support was so tremendous that we have been fortunate enough to continue our donation drives while others were forced to halt due to the pandemic," says Brian Plank, Executive Director of Haven of Rest. "We don't have the surplus, but it just keeps coming in at a steady pace."
The Benefits of Bargains
In order to carry out their mission and operate the many services that Haven of Rest provides with no government funding, the center primarily relies on private donations and grassroots support from the community, like HMG's ongoing volunteerism. In addition, nearly 40% of the funding is from money raised at Haven of Rest's thrift store.
Shoppers can find clothing, antiques, furniture, household items, accessories, and more at bargain prices at the thrift shop. Donations are also accepted from anyone cleaning out their homes ahead of the holiday season.
"We try to be a good neighbor to the city, and so we've built our services around supporting community members during their current situation and preparing them for their future. We have residents come to work in the thrift store to sort the donations, process and get donations on the floor for sale and other things of that nature. It's really a good training ground to prepare them for things that they might see in retail when they are able to go out and try to get a job," Plank says. "We're incredibly grateful to Erica and the HMG team for helping us be a helping hand during this time. We're looking forward to the lives we will change through our efforts together."
How You Can Help
The 2021 coat drive began Nov. 1, and coats can be dropped off at HMG Primary Care at Sapling Grove or Bristol Pediatric Associates, both located in Bristol.
"My hope is to see Haven of Rest grow, to not just get bigger but to spread by word of mouth throughout the community so more people see HMG is true to its mission of being a health partner for life and feel inspired to bring their coats and other winter item donations to us," Erica says. "To have more people get involved in this amazing mission would be tremendous, and I'm incredibly thankful for the ability to support my community this way."
HMG will accept new winter wear donations through November 30, 2021.
Families can also donate items through the thrift store at 124 Pennsylvania Ave., Bristol, TN, or money through the Haven of Rest website. The thrift store is also accepting bleach, cleaning wipes and cleaning supplies in its efforts to maintain proper COVID-19 protocols.