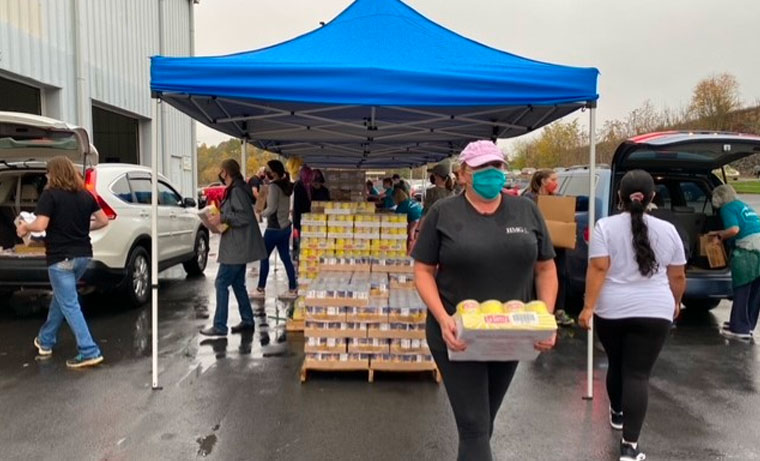 Four-in-five food banks serve more families than they did a year ago due to the economic challenges of the pandemic. For 50,000 people in the eastern Tennessee region, Holston Medical Group helps ensure these individuals do not go hungry this holiday season.
HMG's support for Second Harvest Food Bank of Northeast Tennessee goes beyond assisting in the distribution of over 12.5M pounds of food for those facing food insecurity in our region. This year—with diminished volunteer support for Second Harvest due to the COVID-19 pandemic—HMG staff, nurses and physicians gave the food bank the manpower required to directly distribute food to families in our region. Since the coronavirus outbreak emerged in the United States in March 2020, HMG's team has donated approximately 450 hours in volunteer labor to Second Harvest.
"Truly, Holston Medical Group has been a beacon of volunteer support during COVID-19," says Rhonda Chafin, executive director, Second Harvest Food Bank. "We had to close our doors to volunteers to protect our frontline staff from exposure to the virus. One day, the wonderful folks at Holston Medical Group called and asked, 'Can we help?' I told them, 'Absolutely—in a big way.'"
Showing Up to Fight Hunger
Requests for assistance from Second Harvest rose 40% over the past year as COVID-19 led to job loss and reductions in income for families across the region. "We've seen record distribution numbers, month after month after month, since the pandemic began. In fact, the number of requests for assistance this past November were the largest in our 35-year history of distributing food," Chafin says.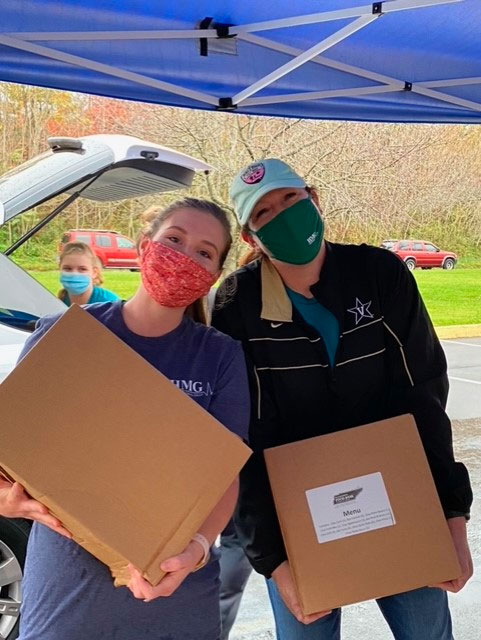 HMG has supported Second Harvest through the "Mission into Motion" initiative, which encourages team members to give back to our communities through volunteer support. This past year, HMG employees recorded more than 2,000 hours of volunteer service to our communities in numerous ways, making an impact at more than 80 local not-for-profit organizations, churches, and schools.
But COVID-19 demanded even more support for the efforts of Second Harvest in particular. "There's a tremendous need for direct service to families facing economic difficulty, and we don't have the volunteers to support the rise in requests for assistance during the pandemic," Chafin says.
"As healthcare professionals, we know that food insecurity—which occurs when access to food or eating patterns are disrupted due to lack of money or other resources—affects individuals' health," said Emily Campbell, MD, HMG Physician and Board Member. "Common health problems resulting from food insecurity can occur because inexpensive food is often highly processed and full of additives such as sugar and sodium. This can worsen chronic diseases such as obesity and diabetes as well as have a negative effect on children's mental health."
So HMG volunteered the manpower for Second Harvest's first drive-through food distribution which began this past July.
That month, more than 30 HMG team members and their families passed out boxes containing up to 100 pounds of food—from meat, dairy, grains and produce to dry goods and other essentials—to over 300 families. Since then, HMG staff have returned each month to distribute boxes of food—and the number of volunteers grows larger every month.
"For me, as an HMG physician and a member of our board of directors, it's so inspiring to see the lengths to which our team goes above and beyond to make a difference for those we serve," said Dr. Campbell.
We're Living Out Our Vision for Health in Our Region
At HMG, where our vision is to engage our patients and our communities to be the healthiest region in America, we know that achieving this goal means going beyond excellence in physical and emotional care. It also takes a servant's heart, looking for every opportunity to fulfill unmet needs in the communities that depend on us for care.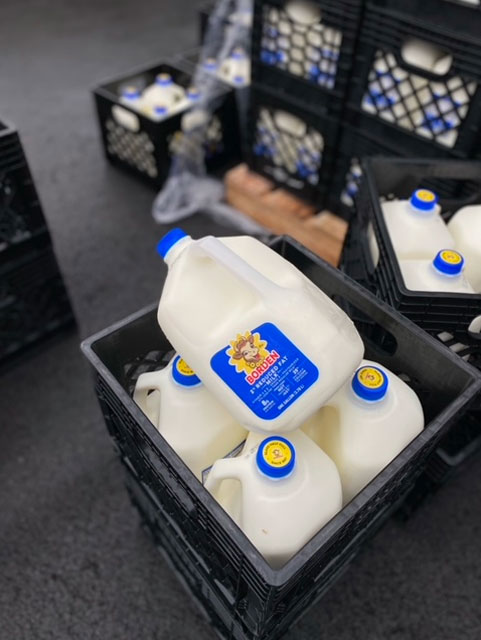 "We're passionate about giving back to our communities, and we look for creative ways to literally put our Mission into Motion," said Dr. Campbell. "Second Harvest is a natural fit: We know that at least one-in-six people in our region struggle with hunger and food security, and we've seen the effects of food insecurity on patients' ability to manage diabetes, hypertension and more."
"Every day, I see examples of our employee's servant's hearts in action," said Dr. Campbell. "I also witness the ripple effects of our work across the region. Our partnership with Second Harvest alone inspired the King University volleyball team, the Rotary Club of Kingsport and others to assist, too. My husband, my two daughters and I have been able to come out and help and the need is truly humbling."
The HMG team's commitment could not have come at a more crucial time: In November, when Second Harvest received record requests for assistance, the teams collectively distributed 1,400 boxes of food in just three hours.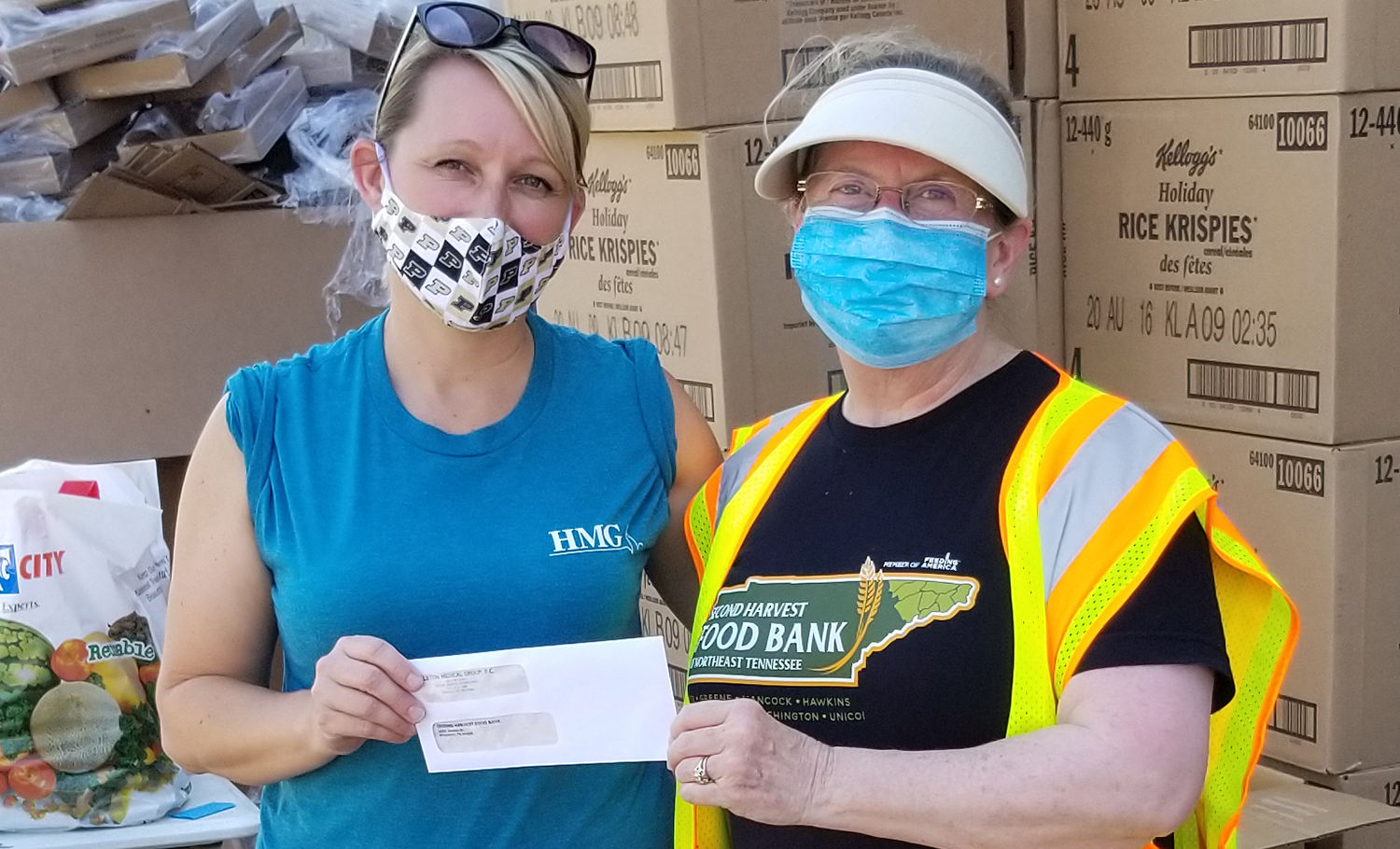 "It's amazing to be part of an organization that is so committed to improving quality of life in our region," said Dr. Campbell.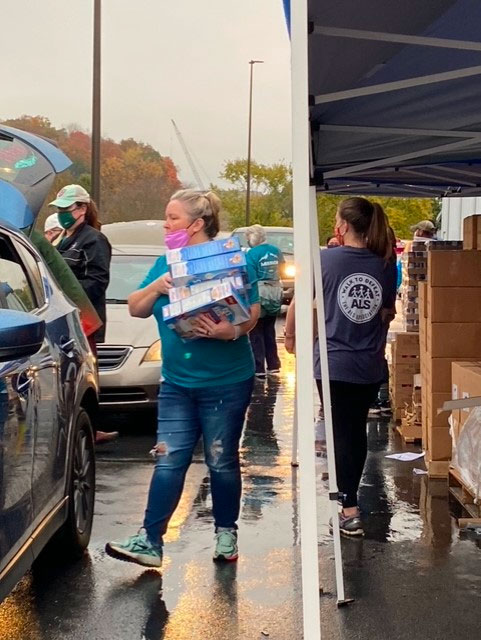 As the pandemic has upended the lives of families across our service areas in eastern Tennessee, southwest Virginia and North Carolina, HMG team members have remained dedicated to providing assistance that helps families attain a sense of stability. During the holidays, especially, we're working hard to give families the resources they need to enjoy the season and find hope for the year ahead.
If you would like to make a donation to Second Harvest Food Bank of Northeast Tennessee, you can donate today! Every $1 donated provides 3.57 meals and your support is needed now more than ever. If you are in need of food assistance, you can find a local food pantry near you or call 423-279-0430 for more information.
From our family to yours: Happy Holidays!