Bryon Krantz took his family to Hilton Head, South Carolina, on vacation and came home with the ultimate fishing story, one that landed him in the hospital and on a journey he won't soon forget.
WJHL Interview: Dr. Alan Meade
As Bryon and his son were fishing on the beach, his son reeled in a few picture-perfect catches: a shark, some bigger fish, and then a prize stingray.
Bryon reached over to help snip the stingray off the line when the great fish's tail with venomous spines went through his right hand. Bryon's family rushed him to a South Carolina hospital, where stingray injuries are commonly seen.
But his treatment in Hilton Head isn't where this story would end.
"They told me to see my primary care provider when I got home," Bryon says. "So I set up an appointment with my HMG provider to get checked out. Even though it looked good at first, it just wasn't healing right."
Under his wound, the tissue in his hand had darkened and looked infected. His next trip was to Holston Medical Group's urgent care center.
"The nurse there told me that I needed to have a specialist look at it, or I could lose the use of my hand!" says Bryon. As a utility worker, he depends on his hands every day.
To see photos of Bryon's injury and the progression of healing, click the slide show above. WARNING: photos are graphic!
After a consultation with HMG hand surgeon Dr. Ashraf Youssef, Bryon was sent to wound care, part of HMG's rehabilitation specialties. HMG providers were here every step of the way for Bryon on his recovery journey, with more than 20 visits to HMG physical therapist Dr. Alan Meade to regain the use of his hand.
What is Wound Care?
Wound care is its own specialty at HMG, where Dr. Meade and others help people like Bryon who have burns, deep cuts, spider bites, or injuries from an accident that just won't heal.
Not every wound needs to be seen by a provider team, of course. Dr. Meade says there are a few steps people can take right away to care for a minor wound or injury:
Wash your hands to reduce the risk of infection.
Stop any bleeding by putting pressure on the wound with a clean cloth or bandage.
Gently wash the area with running water and dry it with a clean cloth.
Apply an antibiotic ointment, like Neosporin® or bacitracin, then cover the wound with a bandage.
Watch the area for a few days to make sure it is healing.
Some people are more likely to have wounds that don't heal properly. Seniors, people with diabetes, and others who have some preexisting conditions are more likely to visit wound care.
The body will give us some signs that something like a burn or bite isn't healing properly. When these happen, just like Bryon noticed, it's time to see your provider or visit urgent care:
Bad smell
Won't stop bleeding
Area around the wound is the wrong color or isn't healing
Fever and chills
"The sooner we can start treatment, the sooner your wound can heal," Dr. Meade says.
Taking Care of Yourself After Injury
Wound care providers like Dr. Meade can help you figure out the best way to take care of your injury so that you can get back to your daily life – even if the injury is unusual. Having worked in Tennessee and Virginia most of his career, this was Dr. Meade's first stingray case.
"It was a very challenging case, but a successful one!" he adds.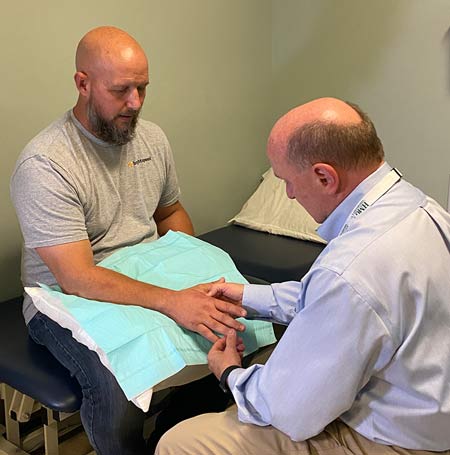 The team started the healing process from the ground up. For Bryon, it meant cleaning and clearing out infected parts of his wound and exercising his hand to regain function. Bryon was taught how to treat the area so that he could take care of it every day and accelerate the healing process.
"The key is education, for the patient and their family members," Dr. Meade says. "After all, they are your support, especially if something needs to be done to help you through the healing process."
Nearly six months after his fishing vacation, Bryon now looks down and sees the scar as a reminder of his big fish story. But he knows it could have been worse.
Bryon's scars hold a permanent reminder of HMG's support through his successful recovery journey. If you have a wound or injury that seems like it just won't heal, visit an HMG urgent care or call the nearest HMG rehabilitation office to get help. No matter the injury — even one they don't see every day, like a stingray tail through your hand — HMG providers are here through it all for you.
"I just love this place. I enjoyed getting up every time and coming to wound care," Bryon says. "How often do you say that about a provider?"