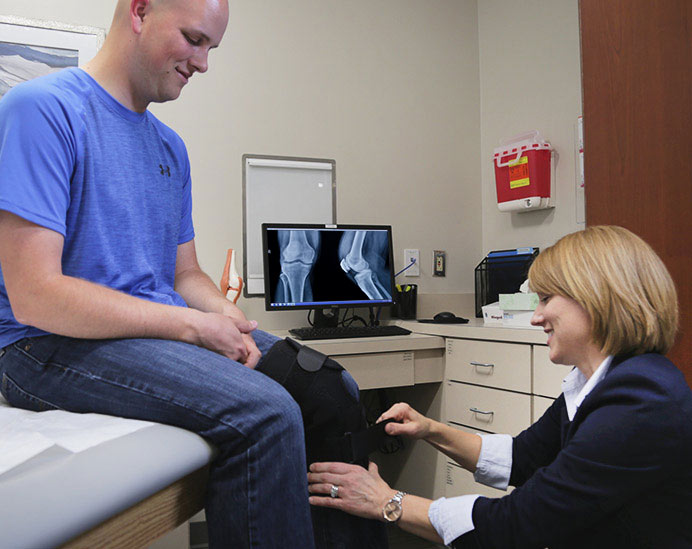 Holston Medical Group (HMG) announced today the opening of the HMG Orthopedic & Sports Medicine Clinic, located in Sapling Grove, 240 Medical Park Blvd., Suite 1500, Bristol, TN, to bring high-quality, cost-effective orthopedic and sports medicine specialty care to Bristol.
HMG's new clinic provides convenient, walk-in access to orthopedic and sports medicine providers as well as advanced diagnostic outpatient care and physical therapy. The clinic is the organization's latest physician-owned and led service to be offered in the Bristol community. Soon to follow will be the Renaissance Surgery Center re-opening which is planned for this month at Bristol West located in the Pinnacle.
"In effort to provide much needed access to patient-centric, orthopedic resources to the Bristol community, we are working to develop services that can deliver high quality care at a low cost," said Scott Fowler, M.D., FACOG, president and CEO, HMG. "The addition of the orthopedic and sports medicine walk-in clinic and outpatient surgery center will support this effort."
The HMG Orthopedic and Sports Medicine Clinic currently offers the following services and resources:
Walk-in availability for all orthopedic issues and injuries at a fraction of the cost of an Emergency Room visit
Minimally invasive techniques to reduce pain and recovery time
Orthopedic bracing & splinting
Neuropsychological concussion testing and treatment
On-site full diagnostic center with immediate access to digital images
On-site physical therapy
On-site casting
To learn more about HMG Orthopedic and Sports Medicine clinic, visit HolstonMedicalGroup.com/orthopedics.