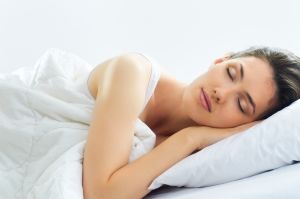 Holston Medical Group (HMG) Sleep Centers are expanding to Bristol, Tenn. The new Center, located at 320 Bristol W. Blvd., Suite 1C, offers diagnostic services for a full range of sleep disorders. The Bristol Center opened on Monday, February 25th.
According to the Center for Disease Control and Prevention (CDC), more than 35 percent of adults in our area sleep less than seven hours per night. Sleep deprivation takes a tremendous toll on physical, mental and emotional health. "It's important to identify the underlying cause when someone isn't sleeping well because it can signal a major health issue," said, Leon Bass, M.D., Medical Director of HMG Sleep Centers. Good sleep promotes better physical health as well as improving mental and emotional capabilities.
Dr. Bass is a quadruple board certified physician in internal medicine, pulmonary diseases, critical care medicine, and sleep disorders medicine. Board-certified sleep physician Dr. Robert Rosser works with Dr. Bass on interpretation of sleep studies. In addition, Dr. Tim Martin, board-certified dental sleep physician, offers an alternative to CPAP titration with sleep dental devices for those patients that qualify.
Depending on tests performed, studies at a physician-based sleep center can be up to 75% lower in cost than a hospital-based sleep center. HMG Sleep Centers are a very cost-effective way to reduce health risks associated with sleep deprivation. Sleep disorder treatment has a high rate of success, returning the patient's energy and quality of life within a short period. Ammie Warner, HMG's Sleep Center Manager, says, "Treatment for sleep deprivation is one of the best things you can do for your overall health and well-being."
HMG Sleep Centers offer private, state-of-the art monitoring rooms. Warner says, "We surround our patients with a warm décor, private bath and luxury linens to put our patients at ease. At HMG, sleep studies are like visiting a hotel." Patients are connected to medical equipment that measures brain activity, arm/leg movement, respirations and heart rate.
Convenient scheduling is available seven days a week at HMG's Sleep Centers. In-lab and home testing are available for a variety of sleep disorders, including:
Sleep apnea (obstructive and central)
Nocturnal alveolar hypoventilation
Hypersomnia
Medications, physical health, lifestyle, stress or a combination of issues can result in sleep deprivation. While most people experience insufficient sleep occasionally, chronic sleep problems can escalate into major health difficulties. Sleep aids can be addictive and do not address the underlying cause. Thus, it is important for patients to talk to their primary care physician about their quality of sleep and ask about sleep testing.
Holston Medical Group Sleep Centers offer consultations with board-certified sleep physicians. In-lab and in-home diagnostic testing and treatments are available for a complete range of sleep disorders. Referrals from a primary care physician are required. For additional questions, please contact one of our HMG Sleep Centers on our website at https://www.holstonmedicalgroup.com/sleep-center/.